Send and Receive Audio Effects
In this lesson we'll look at controlling our signal flow using Send and Receive effects. Send effects allow us to route a duplicate of an audio signal to another group or effect in our mixer enabling complex signal flows. We'll look at using sends to route signal to a reverb audio effect.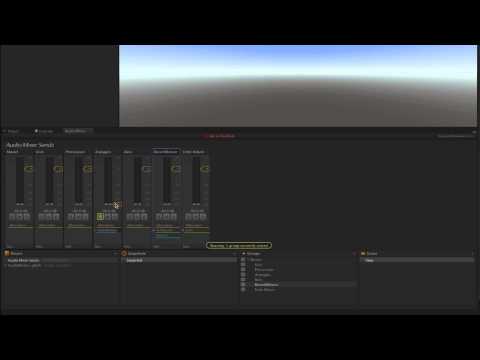 Send and Receive Audio Effects
新手 Audio
脚本
00:29 - 00:32

These are normal groups which have respectively a reverb

00:40 - 00:43

signal from any other the other tracks in the mixer.

01:17 - 01:20

So first we're going to go to our reverb return track

01:20 - 01:23

and we're going to setup our destination, our receive.

01:50 - 01:52

Now we're going to go to our arpeggio and we're going to

01:58 - 02:03

that we have a choice for what bus to route the send to.

02:27 - 02:32

We're going to choose our reverb return receive effect.

02:33 - 02:37

Now we'll notice that a send level becomes visible.

03:23 - 03:26

and that's creating that nice cycle acoustic impression

03:36 - 03:40

bouncing off of surfaces and returning to the listener

03:41 - 03:44

Our synthesiser sound never occurred in an acoustic

03:55 - 03:58

that the dry level should be turned all the way down

04:05 - 04:10

of the attenuation and the send in our group is important.

04:11 - 04:14

Currently the attenuation effect is before the send,

04:31 - 04:34

If we reorder these effects we'll get a different effect.

04:43 - 04:47

the send is not going to have it's volume turned down,

04:53 - 04:56

The result is that the send is going to continue sending

04:56 - 05:00

signal out even though the main channel is turned off.

05:11 - 05:13

What we can hear in this case is that whether or not

05:24 - 05:27

coming back in to the main mix via the reverb return.

05:27 - 05:29

This can be interesting for some non-traditional effects

05:53 - 05:56

we're going to receive no effect, so it's important for any effects

06:42 - 06:46

which is especially important if we're aiming for realism.

06:48 - 06:51

so that they feel like they're emanating in the same environment.

07:12 - 07:15

chain so that it's signal will pass through the echo.

07:57 - 08:01

groups that we've created here via the two receive effects.

08:03 - 08:07

control the levels individually using the send volumes

08:18 - 08:22

processing audio signals, especially with reverb can

08:27 - 08:33

could have a serious CPU resource cost at run time.

08:42 - 08:45

resources that we'll probably need elsewhere in our game.