Creating Collectable Objects
Creating Collectable Objects
In this assignment we'll add collectable objects to our 2D UFO game in progress. We'll use Prefabs, 2D trigger colliders to do this, and add a one line C# script to make the collectable objects rotate.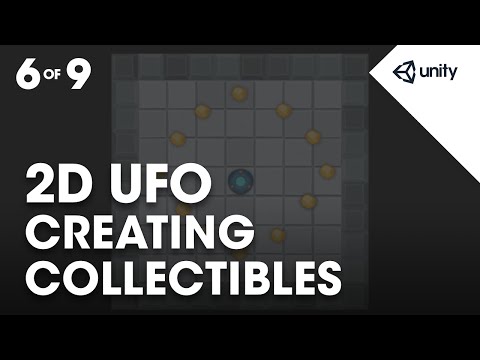 Creating Collectable Objects
新手 2D UFO tutorial
脚本
03:48 - 03:53

Scroll down until you see Transform's public functions.

08:21 - 08:23

I'm going to place mine at the top of the playing area.

08:30 - 08:34

Edit - Duplicate, or by using the hot key combination.
Code snippet
using UnityEngine;
using System.Collections;

public class CompleteRotator : MonoBehaviour {

    //Update is called every frame
    void Update () 
    {
        //Rotate thet transform of the game object this is attached to by 45 degrees, taking into account the time elapsed since last frame.
        transform.Rotate (new Vector3 (0, 0, 45) * Time.deltaTime);
    }
}