Creating the Tile Prefabs
Creating the Tile Prefabs
This is part 3 of 14 of the 2D Roguelike tutorial in which we create the tile prefabs for the floor, wall, food, soda and exit prefabs.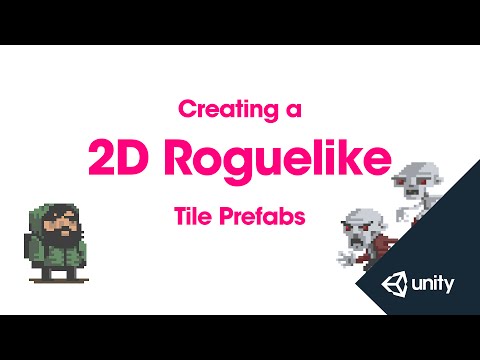 Creating the Tile Prefabs
中級 2D Roguelike tutorial
トランスクリプト
00:17 - 00:20

which is going to serve as the background for our level.

00:27 - 00:30

And we're going to add a sprite renderer component.

00:56 - 01:00

And then we're going to reuse this by switching the sprite

01:18 - 01:21

I'm going to fast forward the video while I do this.

01:47 - 01:51

The exit is going to need a box collider 2D component

01:51 - 01:54

so that we can detect when the player has moved on to it.

02:11 - 02:16

so that it will be rendered under the Player but in front of the Floor.

02:45 - 02:49

to our items layer and we're going to change the tag to Food.

03:13 - 03:16

the player or enemies from moving in to their space

03:16 - 03:19

they're just going to be picked up if the player moves over them.

03:47 - 03:49

this is actually going to prevent the player and the enemies

03:59 - 04:03

because this is actually going to block the player's movement.

04:06 - 04:08

because this is going to be part of the outer wall,

04:21 - 04:24

Rename it to OuterWall2 and let's change the sprite.

05:18 - 05:20

And now we're just going to create a few variations.