Writing the Game Manager
This is part 5 of 14 of the 2D Roguelike tutorial in which we write the GameManager script which will manage the state of our game.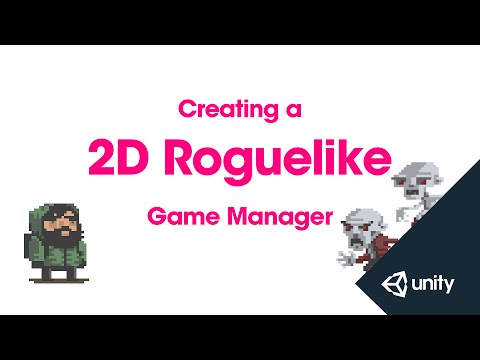 Writing the Game Manager
中級 2D Roguelike tutorial
トランスクリプト
00:18 - 00:21

Next let's open our game manager script in MonoDevelop.

00:32 - 00:37

of the type int called Level and initialise it to 3.

00:51 - 00:54

And we're also going to call the InItGame function.

00:56 - 01:00

In InItGame we're going to call the SetupScene function

01:14 - 01:18

With that done let's save our script and return to the editor.

01:41 - 01:44

Let's lock the inspector by clicking the lock button up here.

02:06 - 02:10

This is going to allow us to add all of them at once

03:06 - 03:08

we can see that the camera is a little out of position,

03:43 - 03:47

We're going to add some functionality to our GameManager script.

04:32 - 04:37

Declaring it as static means that the variable will belong

04:41 - 04:44

This means that we can now access the public functions

06:23 - 06:27

In Awake we're going to check if GameManager.Instance

06:28 - 06:32

Here we're using the static variable that we created

06:42 - 06:44

We can delete the update function because we're not going to use it.

06:49 - 06:53

Now in the editor we can delete our GameManager from the hierarchy.
GameManager
Code snippet
using UnityEngine;
using System.Collections;

    using System.Collections.Generic;       //Allows us to use Lists. 
    
    public class GameManager : MonoBehaviour
    {

        public static GameManager instance = null;              //Static instance of GameManager which allows it to be accessed by any other script.
        private BoardManager boardScript;                       //Store a reference to our BoardManager which will set up the level.
        private int level = 3;                                  //Current level number, expressed in game as "Day 1".

        //Awake is always called before any Start functions
        void Awake()
        {
            //Check if instance already exists
            if (instance == null)
                
                //if not, set instance to this
                instance = this;
            
            //If instance already exists and it's not this:
            else if (instance != this)
                
                //Then destroy this. This enforces our singleton pattern, meaning there can only ever be one instance of a GameManager.
                Destroy(gameObject);    
            
            //Sets this to not be destroyed when reloading scene
            DontDestroyOnLoad(gameObject);
            
            //Get a component reference to the attached BoardManager script
            boardScript = GetComponent<BoardManager>();
            
            //Call the InitGame function to initialize the first level 
            InitGame();
        }
        
        //Initializes the game for each level.
        void InitGame()
        {
            //Call the SetupScene function of the BoardManager script, pass it current level number.
            boardScript.SetupScene(level);
            
        }
        
        
        
        //Update is called every frame.
        void Update()
        {
            
        }
Loader
Code snippet
using UnityEngine;
using System.Collections;


    public class Loader : MonoBehaviour 
    {
        public GameObject gameManager;          //GameManager prefab to instantiate.
        public GameObject soundManager;         //SoundManager prefab to instantiate.
        
        
        void Awake ()
        {
            //Check if a GameManager has already been assigned to static variable GameManager.instance or if it's still null
            if (GameManager.instance == null)
                
                //Instantiate gameManager prefab
                Instantiate(gameManager);
            
            //Check if a SoundManager has already been assigned to static variable GameManager.instance or if it's still null
            if (SoundManager.instance == null)
                
                //Instantiate SoundManager prefab
                Instantiate(soundManager);
        }
    }