Realtime Global Illumination Day/Night Cycle
Checked with version: 5
-
Difficulty: Intermediate
Using Unity 5 and the standard shader with physically based lighting, this tutorial shows how to create demo with a simple day/night cycle.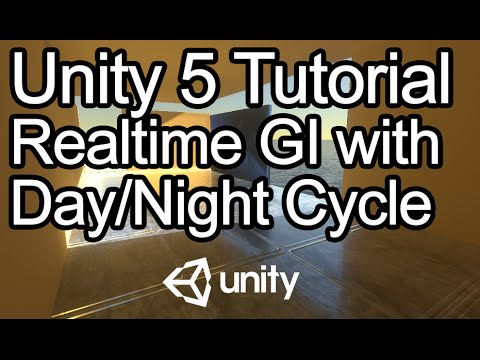 Realtime Global Illumination Day/Night Cycle
Intermediate Graphics
This lesson highlights the use of realtime global illumination, reflection probes, emissive materials and one single directional light. Nothing is baked. There is no ambient lighting. The reflections on the floor are from a single reflection probe. The picture that lights up is a an emissive material. Every non-directional light is a physical bounce.
The Demo
The final demo can be found here: https://www.youtube.com/watch?v=Ukkiqe_75d0
AutoIntensity
Code snippet
using UnityEngine;
using System.Collections;

public class AutoIntensity : MonoBehaviour {

    public Gradient nightDayColor;

    public float maxIntensity = 3f;
    public float minIntensity = 0f;
    public float minPoint = -0.2f;

    public float maxAmbient = 1f;
    public float minAmbient = 0f;
    public float minAmbientPoint = -0.2f;


    public Gradient nightDayFogColor;
    public AnimationCurve fogDensityCurve;
    public float fogScale = 1f;

    public float dayAtmosphereThickness = 0.4f;
    public float nightAtmosphereThickness = 0.87f;

    public Vector3 dayRotateSpeed;
    public Vector3 nightRotateSpeed;

    float skySpeed = 1;


    Light mainLight;
    Skybox sky;
    Material skyMat;

    void Start () 
    {
    
        mainLight = GetComponent<Light>();
        skyMat = RenderSettings.skybox;

    }

    void Update () 
    {
    
        float tRange = 1 - minPoint;
        float dot = Mathf.Clamp01 ((Vector3.Dot (mainLight.transform.forward, Vector3.down) - minPoint) / tRange);
        float i = ((maxIntensity - minIntensity) * dot) + minIntensity;

        mainLight.intensity = i;

        tRange = 1 - minAmbientPoint;
        dot = Mathf.Clamp01 ((Vector3.Dot (mainLight.transform.forward, Vector3.down) - minAmbientPoint) / tRange);
        i = ((maxAmbient - minAmbient) * dot) + minAmbient;
        RenderSettings.ambientIntensity = i;

        mainLight.color = nightDayColor.Evaluate(dot);
        RenderSettings.ambientLight = mainLight.color;

        RenderSettings.fogColor = nightDayFogColor.Evaluate(dot);
        RenderSettings.fogDensity = fogDensityCurve.Evaluate(dot) * fogScale;

        i = ((dayAtmosphereThickness - nightAtmosphereThickness) * dot) + nightAtmosphereThickness;
        skyMat.SetFloat ("_AtmosphereThickness", i);

        if (dot > 0) 
            transform.Rotate (dayRotateSpeed * Time.deltaTime * skySpeed);
        else
            transform.Rotate (nightRotateSpeed * Time.deltaTime * skySpeed);

        if (Input.GetKeyDown (KeyCode.Q)) skySpeed *= 0.5f;
        if (Input.GetKeyDown (KeyCode.E)) skySpeed *= 2f;


    }
}
SetSunLight
Code snippet
using UnityEngine;
using System.Collections;

public class SetSunLight : MonoBehaviour {

    public Renderer lightwall;

    Material sky;

    public Renderer water;

    public Transform stars;
    public Transform worldProbe;

    // Use this for initialization
    void Start () 
    {

        sky = RenderSettings.skybox;

    }

    bool lighton = false;

    // Update is called once per frame
    void Update () 
    {

        stars.transform.rotation = transform.rotation;

        if (Input.GetKeyDown(KeyCode.T))
        {

            lighton = !lighton;

        }


        if (lighton)
        {
            Color final = Color.white * Mathf.LinearToGammaSpace(5);
            lightwall.material.SetColor("_EmissionColor", final);
            DynamicGI.SetEmissive(lightwall, final);
        }
        else
        {
            Color final = Color.white * Mathf.LinearToGammaSpace(0);
            lightwall.material.SetColor("_EmissionColor", final);
            DynamicGI.SetEmissive(lightwall, final);
        }
    
        Vector3 tvec = Camera.main.transform.position;
        worldProbe.transform.position = tvec;

        water.material.mainTextureOffset = new Vector2(Time.time / 100, 0);
        water.material.SetTextureOffset("_DetailAlbedoMap", new Vector2(0, Time.time / 80));

    }
}